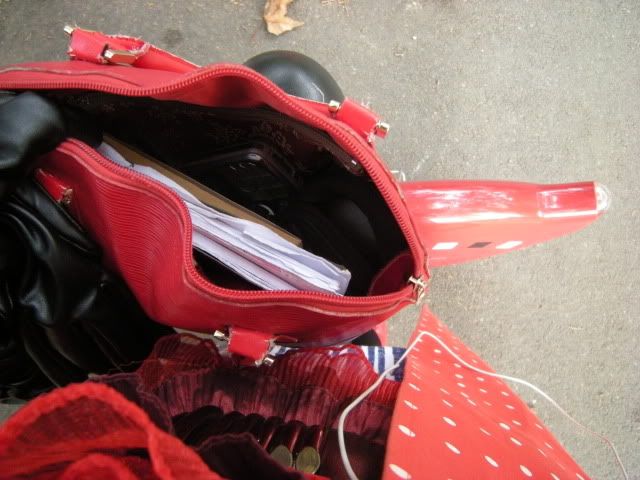 While chatting with a friend recently in a cosy café, I learnt that she spent six weeks travelling over Summer using only hand luggage. She mentioned doing the washing once a week as a bit of an inconvenience, but was thrilled by how much money she'd saved.
Unfortunately, I cannot claim to be as much of a travel goddess. What I
do
know, however, is how to survive for days living out of your handbag.
For whatever the reason, occasionally we find ourselves unable to go home at the end of a night out. If you're lucky, a friend will offer some floor-space, or even better, a couch. But how to survive the following morning? What you carry in your handbag should be sufficient to disguise the damage and avoid the scornful glares that walks-of-shame typically receive.
You wake up.
Once you've established where you are, it's time to get moving. Bananas are great for a bit of brain power, demolish hangovers and are commonly found in fruit bowls, regardless of season. A glass of water doesn't go astray at this point either. If you can find tea bags and a kettle, even better.
Breakfast down and your brain should be functioning on at least a basic level. Next stop, personal hygiene. If your hosts offer you a shower, you've hit the jackpot. Enjoy their delicious shampoo and body wash and emerge fresh as a newborn. The rest of us however must make do and mend.
1. Hide the evidence.
Remove incriminating makeup and under eye blackness with makeup remover. A piece of toilet paper and some body wash will do at a pinch. At worst, splash your face and wipe old makeup to the outer corner of your eyes.
2. Makeup!
It won't be perfect, but it'll get you through the morning (or afternoon...) I like to carry two eyeliner pencils in my purse for this very purpose. A little white in the inner V of each eye will make you look more alive than you feel, and a neat line of black on the lower lid makes your smudgy look more rock chick than heroin addict. Eye pencils are generally small, light, and thus portable, and a line of kohl does away with the need for mascara (although some likely remains from the night before!) Wake up your face some more with a light pinch of each cheek. Who needs blush? Finish off your morning fresh look with some clear gloss on your lips (and eyelids if you're feeling it!) Lip balm or gloss can also be used for on-the-go hair styling if you wake with a serious case of bedhead. Otherwise style as best as you can with water and your fingers. I usually carry a spare hairclip in my bag.
3. Freshen up.
Unless you're clever enough to carry a travel toothbrush in your bag, you'll likely have to rough it. Toothpaste and your finger will make you feel a lot happier than not brushing your teeth will. Rinse, repeat.
4. Time to go...
If your host is up, ask them to point you in the direction of the nearest metro station/bus stop. If you're the only one standing, your best bet is to let yourself out and find a main road. You'll get home eventually! You should always have a travel pass or some coins in your purse.
5. Work it!
Throw on those oversized sunglasses that you cleverly stowed in your bag the night before and pop that iPod on high. Strut down the street in your ultra high heels in the sunshine and laugh about last night's crazy antics.
Living out of your handbag: a checklist
makeup essentials: white eyeliner, black eyeliner, clear gloss
travel pass/coins
oversized sunglasses
iPod
mobile phone
And for the experts...
hair clips
miniature bottle of hand cream (for hair styling, makeup removal, random dry patches etc.)
fresh pair of knickers
a pen to record all the funny anecdotes that come back to you
With preparation this thorough, you needn't go home for days! Happy travels....