Hello petals! Well I've had a whirlwind of a weekend and am not that surprised that I've fallen sick.
The fun started on Thursday night when two girlfriends arrived in Paris by bus. After a crêpe and cider tea, I was there to greet them with a bottle of bubbly which we enjoyed on the metro. All class. I took the last train home and managed to do myself injury by cartwheeling through the garden. I won't include a picture as it is still very disgusting.
On Friday I caught the metro to
la bibliothéque nationale
for a rendez-vous with a friend. We enjoyed lunch together before I headed off to Père Lachaise cemetary for some photography and relaxing.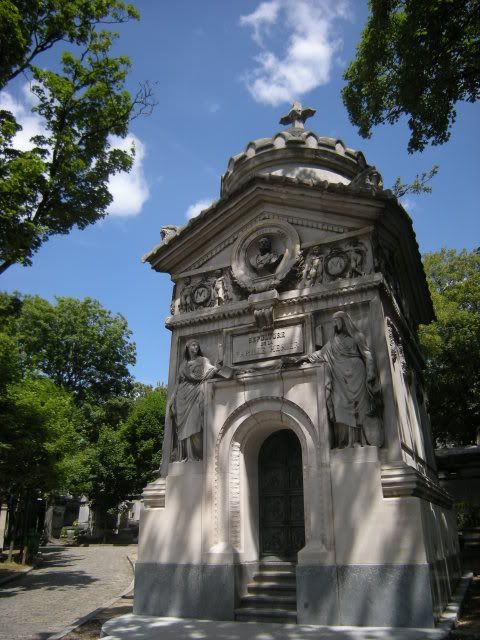 Later I met up with my girlfriends and we walked around Nôtre Dame, past the tennis projected at the Hôtel de Ville and into the Gustav Eiffel expo.
Next stop was the Pompidou Centre which was full of life due to the weather. We snacked on red licorice. Then it was a stroll along rue de Rivoli with me desperately trying to recall historical facts until we reached the Louvre. I really need to brush up on my tour guide skills.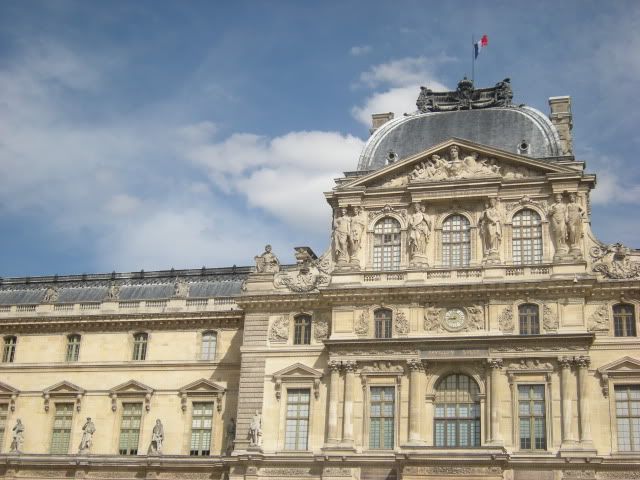 We walked through the Louvre courtyard, taking photos on this beautifully sunny day, and onwards through the Jardin des Tuileries before finally arriving at the Place de la Concorde, with its towering obelisk and unobstructed view of the Eiffel Tower.
Then it was a short stroll up the road to Eglise de la Madeleine and into the welcoming walls of Fauchon, a gourmet food emporium. With Mother's Day being on Sunday 7th June here, Fauchon were hosting a rose champagne promotion and so with glee we sampled the fine bubbles! I got talking with the very charming sommelier who offered me a second glass. Life is good, dear friends!
Metro again up into the 19é where we dropped in to Cafe de la bicyclette for aperos and a cheese platter. I repeat, life is good! After being invited to a party in an old train station by the bar's owner, I left my friends to enjoy some live music while I headed across the river to a hilarious Parisian party. Here I not only met a girl from my hometown, but one who lives on the SAME STREET AS ME! My night ended dinkeying on a public Velib' bike past Les Invalides and then strolling through light rain at 7.30 to make my way home.
I spent much of Saturday tucked up in bed but dragged myself out to get some fresh reading material from the library, and came across an exhibition by students of the local primary school.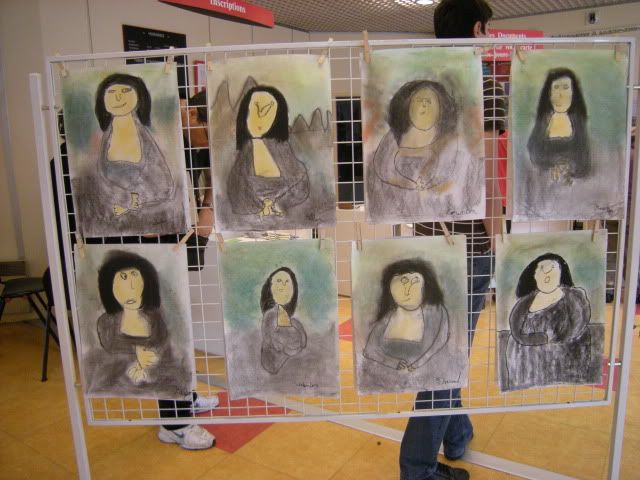 While not fine art like the original, I found something very appealing about the childrens' interpretations of the Mona Lisa

They had also constructed miniature Venus de Milos and Louvres out of plasticine.
After a disco nap I met up with my girlfriends for some bubbles before heading out into the Parisian night air. We headed to a party opposite the Promenade Plantée (worth a visit if you have a few days in Paris and are florally inclined!) in a grand share apartment. SO MUCH DANCING, and such fun to change languages every five minutes.
Sunday morning I was picked up at Place de la Nation and driven into the countryside. Unfortunately there were millions of other cars on the road too, due to
a) Obama being in town
b) Dalai Lama being in town
c) A bike festival blocking up streets
d) European elections taking place
e) It being Mother's day
Finally we escaped the city and as the roads became smaller and smaller the landscape similarly evolved: lush green fields patterned with cloud shadows, densely packed forests with steep cliffs, medieval towers tucked into the hillside. We drove past Versailles and saw horn players outside a similarly impressive château.
We reached the countryhouse which had a beautiful, messy garden.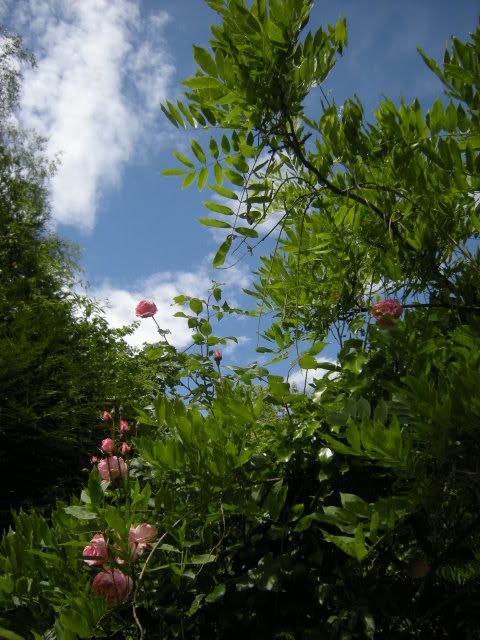 The weather held out for drinks on the terrace, but being France, stormclouds ushered us inside for lunch.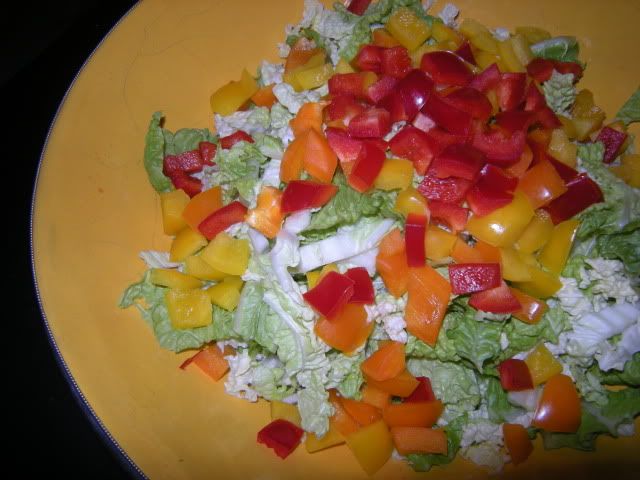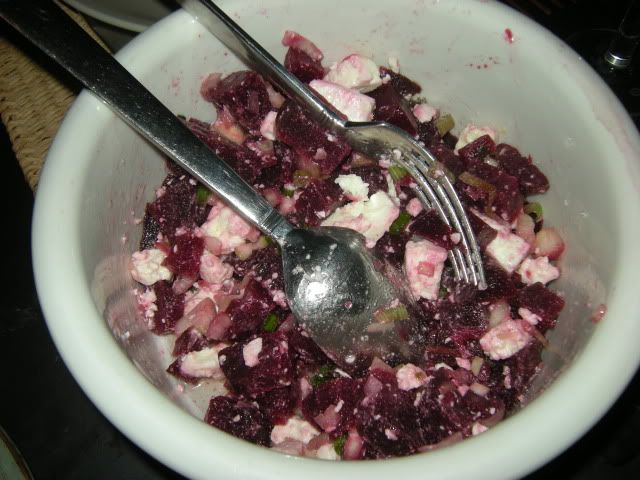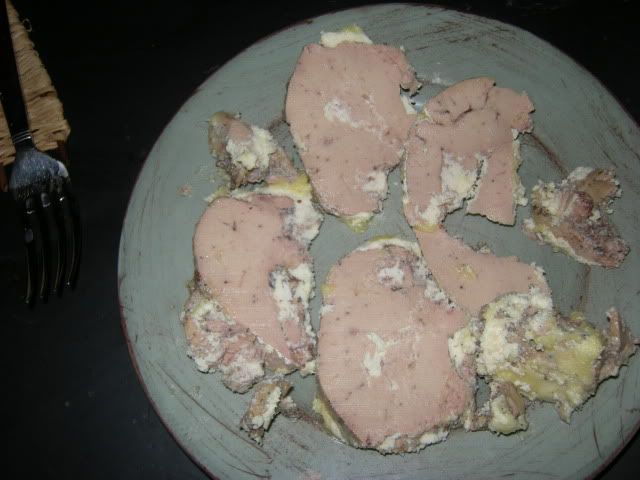 My French friends insisted I take a photo of the foie gras, after having snapped the salads. Needless to say, I didn't eat any...

After a lengthy repas and much conversation (heavily dominated by the European election) we began the long drive home again. Dinner was a thrown together affair of pasta, avocado, mozzarella and chickpeas.
Despite a late night spent reading, Monday morning consisted of a farewell breakfast with my girlfriends and accompanying them to the train station for their voyage to Amsterdam. In bidding them farewell I became jealous of their adventure; I wanted to go away too!
Which brings me to the point of this post. I too am heading off on adventures! Tomorrow I fly out to Berlin for two weeks of beer drinking, vintage shopping, bike riding, bookshop exploring, dancing and general good times. I'll do my best to continue posting.
I hope you have all had similarly extended, life-affirming weekends!