It's getting harder for me to keep track of where I am right now (particularly upon waking) so I thought I'd scramble together a post on what a day/some days are like on the road and in the air.
I write this to you at midnight in Stockholm, Sweden, a country I'd never visited before (not counting the flight out of Malmo/Copenhagen last Friday).
21:00 Monday, 3 June: I had just finished an exhausting and exhilarating three hours spelunking under Budapest and raced for the bus back to the city.
22:00: Walked with new caving friends to a fancy restaurant for my last night in Hungary.
23:00: Ran back to the restaurant to collect my swimsuit bag, still wet from the Turkish baths that morning.
24:00: Met my couchsurfing host on the last metro home.
1:00: Looked up the bus timetable and decided to stay up all night.
2:00: Forced myself to stay awake by sending overdue emails.
3:00: Wrote my hosts a thank you card and walked through the dark streets to catch a night bus into the city centre.
4:00: Tripped on my pack walking to the airport shuttle and came down hard on my knees. Ouch.
5:00: Checked in, and was attended to by airport first aid. They couldn't even give me an ice pack...
6:00: Flight Budapest --> Stockholm.
7:00: Definitely ugly sleeping inflight.
8:00: Arrived in Sweden and picked up a sandwich at the airport. Rude reminder of how expensive Scandinavia is.
9:00: Enjoyed the sunshine while waiting for the airport shuttle bus. Loved the green scenery.
10:00: Fell asleep on board.
11:00: In Stockholm centre, finally got through to my couchsurfing host.
12:00: Metro to his apartment, and realised that my stay there wasn't going to work out..... lifestyle differences....
13:00: Metro to hastily booked hostel in old town. Much happier.
14:00: Freshly showered, and decided to rest my knee for a little bit...
15:00: zzzzzz
16:00: zzzzz
17:00: Definitely ugly sleeping again.
18:00: zzzzz
19:00: Finally woke up and obligatory am/pm confusion.
20:00: Found a vegetarian restaurant! Piled my plate high.
21:00: Walked around the historic harbour area in the beautiful long evening light.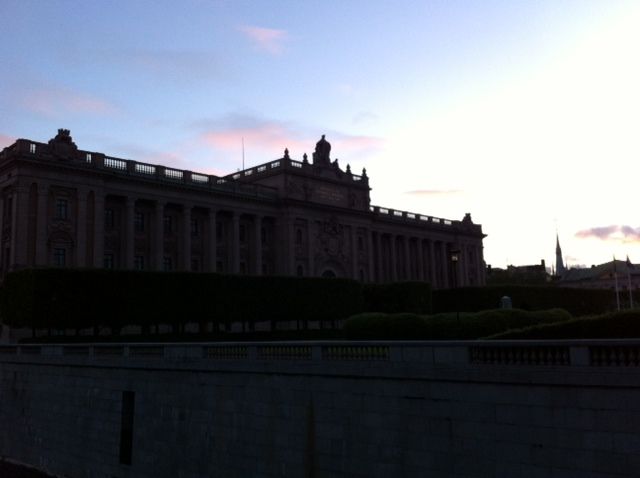 22:00: Wasn't able to find a supermarket, so headed back to the hostel for a cup of tea.
23:00: Chatted with fellow travelers. I LOVE hearing other people's stories!
24:00: And here we are! Time for a good night's rest.
I hope you enjoyed this insight into what my travel days can be like. This was definitely a long one!