I'm so tired I've started falling over when I'm trying to walk. True story. Was up till 3 last night marking, 1 the night before planning and 1 the night before that. It's so hard trying to fit everything in! Combine prac with a nasty uni assignment due last Friday and you have one dirty week.
But I can't complain! As I said to my friend this evening, I'm tired, stressed, but really happy. The weather's been crap and my body is saying no and there's no healthy work-life balance happening, but I'm still smiling. Things are good.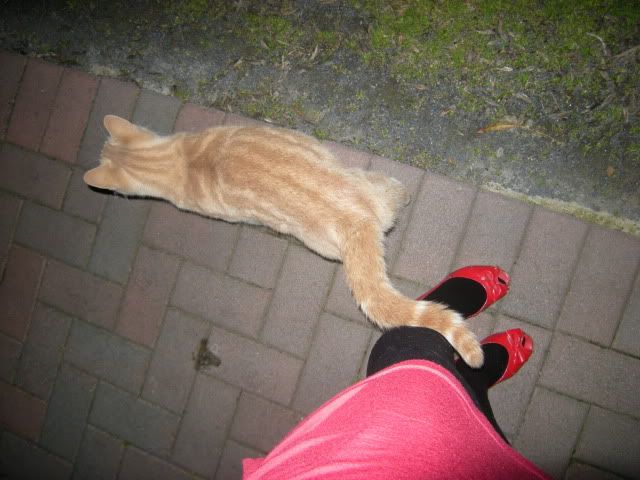 So these days it seems week = work. I don't want to be that person. Hmm.
Does it follow that weekends = play? I had dinner and went dancing with girlfriends on Friday night and gorged on
wine and cheese on Saturday night
. Then I was very, very naughty and spend all of Sunday with the manfriend instead of doing work. Hence playing catch-up all week.
Snippets
Making friends with a ginger cat on the walk home
Eating lots of cakes in the staff room!
"Restraining" my wardrobe choices - mom's words
Working my way through uber to-do lists
Planning creative lessons (and delivering them with panache!)
Study dates with the manfriend
The heater being fixed - it's still cold outside!
Hilarious chats and challenges with girlfriends
Thinking about next year (and the next few)

YOU GUYS!
This time next week it's my birthday! To celebrate? Teaching for five hours and then concert band rehearsal.... Oh. Dear. Hope you're all still smiling through a tiring August. Let's steam towards the end of the year (and summer!)
PS? I keep saying "Tomorrow I'll have time to do a decent blog post", yet every day I'm getting home around 6pm and having some dinner before settling into a night's work.
Sigh
.